Your ceremony, reception, or party is enveloped in a magical atmosphere of beautiful music. Your guests are enchanted as the ethereal sounds of the hammered dulcimer and oboe float through the air . . .
Crystal Creek Music can provide this musical ambience for you. We are regularly told that our music is uplifting, peaceful, and even "healing." We have decades of professional experience, plus advanced degrees in music, and combine them with a commitment to provide the best possible music for you, our customer. You can hear samples of our music on our website:
http://www.crystalcreekmusic.com
Our most popular ensemble consists of a trio of 1) hammered dulcimer and/or bassoon, 2) oboe and recorder, and 3) guitar or violin. We play music chosen from the Renaissance era, and from Celtic, English, French and other folk traditions from around the world, plus the most popular classical selections. We can also provide an ensemble of oboe, violin, and bassoon, playing elegant classical music.
One couple wrote to us: "Your music really set the atmosphere for our fairy tale Renaissance wedding. We received so many compliments about the music played . . . Everyone thought we spent a fortune on your professional live music – we didn't tell them that you were the best deal in Colorado! Thank you for helping to make our wedding day the most special day in our lives. We would tell anyone looking for wonderful theme music that you helped to make our day absolutely perfect." – James & Susan, Denver
Please contact us for availability, specific pricing information, and a full list of our services. Our groups start at $225, with prices reflecting the length of performance time and the number of players. A list of references is available on request.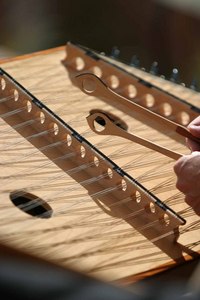 &nbsp