Phliharmonic Brass
Contact via Phone or Email
Ph. (617) 501-2257
The Philharmonic Brass is heralded as Colorado's premiere chamber brass ensemble. Dedicated to educational outreach throughout Colorado's youth communities, the Philharmonic Brass strives to excel in the art of chamber music through innovative programming and interactive performances.
Members of the Philharmonic Brass currently serve as principal players with the Colorado Springs Philharmonic. In addition, they frequently perform with many of the countries top professional orchestras including The Colorado, Boston, St. Louis, New Mexico and Charleston Symphony Orchestras.
Rooted in the rich lineage and tradition of brass performance, the Philharmonic Brass is progressing toward tomorrow with innovative programs that use the composer, the listener and the performer as participants and collaborators. The result is not just another performance, but a uniquely intimate and interactive musical experience.
David Zuercher, trumpet
Thomas Wilson, trumpet
Matthew Scheffelman, horn
Bron Wright, trombone
Charles Ortega, tuba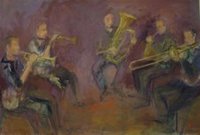 &nbsp